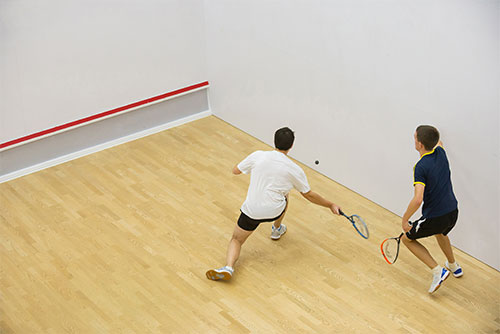 19 Feb

5 Reasons Why You Should Start Playing Squash

Are you looking for a new sport to play? Well, we have a pretty obvious suggestion for you – squash!! It's an awesome sport that you'll get a lot of joy from.

If you're undecided on giving squash a try, the below five reasons should help make your decision!

It's a Great Workout

Getting in enough exercise can sometimes be a boring and repetitive task. Squash is certainly not that! It's a high-intensity workout that'll constantly work your body throughout the duration of what is truly a fast-paced game. If you play squash for an hour, the usual calorie burn is over 1,000 calories, which is more than other activities like running or cycling.

You Can Be on Your Own or on a Team

If you're solely looking for a good workout or you need some time to improve your on-court skills, then it's not uncommon to see people getting their sweat on by themselves. Squash can also be a great social activity, though, since it's meant to be either a two- or four-person game.

You Can Play it Year Round

There are a number of sports that must have an offseason because they're played outside. That's not squash – since it's played indoors, you can literally play it all year round.

While this is a terrific benefit, it's worth noting that you do need to take some strategic breaks in order to let your body rest and recover.

Not a Lot Is Needed to Get Started

The game of squash itself isn't easy, but getting started couldn't be simpler. All you need is some comfy workout gear, non-marking shoes, a racquet and a ball.

There Are Plenty of Health Benefits

We've already covered the number of calories you can burn in just one game of squash, but that's just one of the many health benefits you can receive from it! During the course of a game, you'll be asking your body to move in a multitude of different directions while also getting enough power to hit the ball properly.

Playing squash regularly will improve your balance, agility, and coordination. It's also a pretty good stress reliever after a hard day.
Interested in finding out more about hiring a squash court at Brighton Recreational Centre?  Click here to find out more or call the Centre on 9592 3033 to make a booking.   
Article taken from the International Squash Academy website www.campsquash.com/.